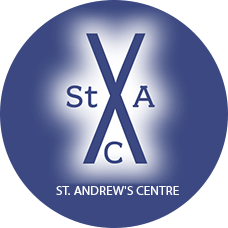 2018-2020
STRATEGIC PLAN
VALUES
As the governing body of St. Andrew's Centre, the board upholds these values, within the Catholic context:
o Dignity – We respect and believe in the dignity and worth of all the Centre's people – residents, staff, and community.
o Community – We are more than a building with people in apartments. Our presence makes a positive difference.
o Service – We are servant-leaders, ensuring our residents are offered safe housing, warm hospitality, and social opportunities.
o Personal Independence – We provide services that assist our residents, staff, and community in exercising their personal independence.
VISION
St. Andrew's Centre is a model for premium homes that support seniors.
MISSION
The mission of St. Andrew's Centre is to provide safe housing for seniors with access to support services and social opportunities that enhance and maintain their highest level of wellness.
STRATEGIC PRIORITIES
1. Provide a high standard of housing and access to support services for seniors.
2. Respect the personal dignity and enhance the wellness of our residents.
3. Develop and support family and community involvement in the lives of our residents.
4. Advocate for and build awareness of the Centre within the community and in various levels of government.
5. Provide good governance and operations for the Centre.