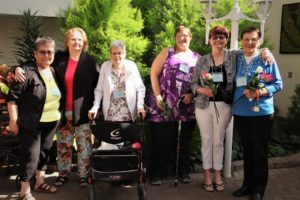 Exciting, Fulfilling, Independent Living
At St. Andrew's Centre, we are proud to have a thriving community full of residents from all backgrounds, denominations, and walks of life. With plenty of in-house amenities to enjoy, an incredible surrounding neighbourhood that includes easy access to the rest of the city, and a bustling roster of activities, there's never a dull day here at the Centre! Learn more about some of our popular activities and events below!
Holiday Season at St. Andrew's
Christmas Craft Sale
St. Andrew's Centre hosted its first ever Christmas Craft Sale featuring over 30 local vendors, including a few of our very own residents. The event was a huge success and made it easy for residents to do their holiday shopping all in one convenient place.
Christmas Buffet
One of our favourite traditions is our annual Christmas buffet for residents and their families. The Christmas buffet allows residents to purchase as many tickets as desired, and decorate their own table to get into the festive spirit! As a perfect time of holiday celebration, it is one of most loved events of the year!
Regular Activities
Chair Yoga
Stay in shape thanks to our volunteer yoga instructor who offers weekly classes for up to 15 people.
Computer Classes
Brush up on your technology with our free six-week computer class facilitated by the Edmonton Public Library. As a high demand class, spots go quickly, but new sessions begin regularly.
Learn more about life and community at St. Andrew's Centre by contacting our team today!